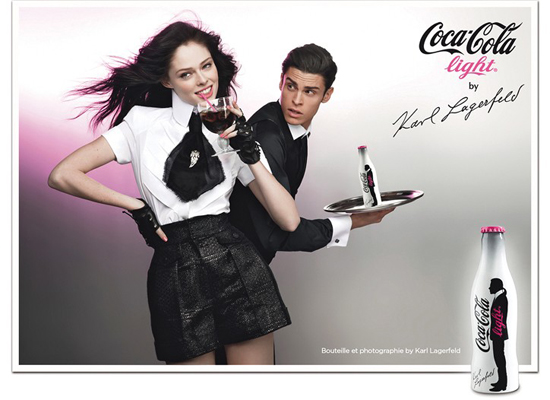 (image courtesy of huffingtonpost.com)
If there is one fashion mastermind we adore and know that he is infallible, it is
Karl Lagerfeld
. He has a teddy bear designed in his image, and now will be designing limited edition bottles of Diet Coke in France (they call it Coca-Cola Light.) The bottles will have a pink cap and feature his silhouette, and there will be a boxed collector's edition of the bottle with a matching cap opener that will sell for $64 in France. It is not surprising to see this collaboration between Lagerfeld and Diet Coke occur since he alleges that he lost 90 pounds on a diet of steamed vegetables and Diet Coke.
+
An ad was shot for this collaboration featuring model
Coco Rocha
and Lagerfeld's
model protege
boy toy
Baptiste Giabiconi
that will make everyone including us want to get
in line
for some!!! Cheers!